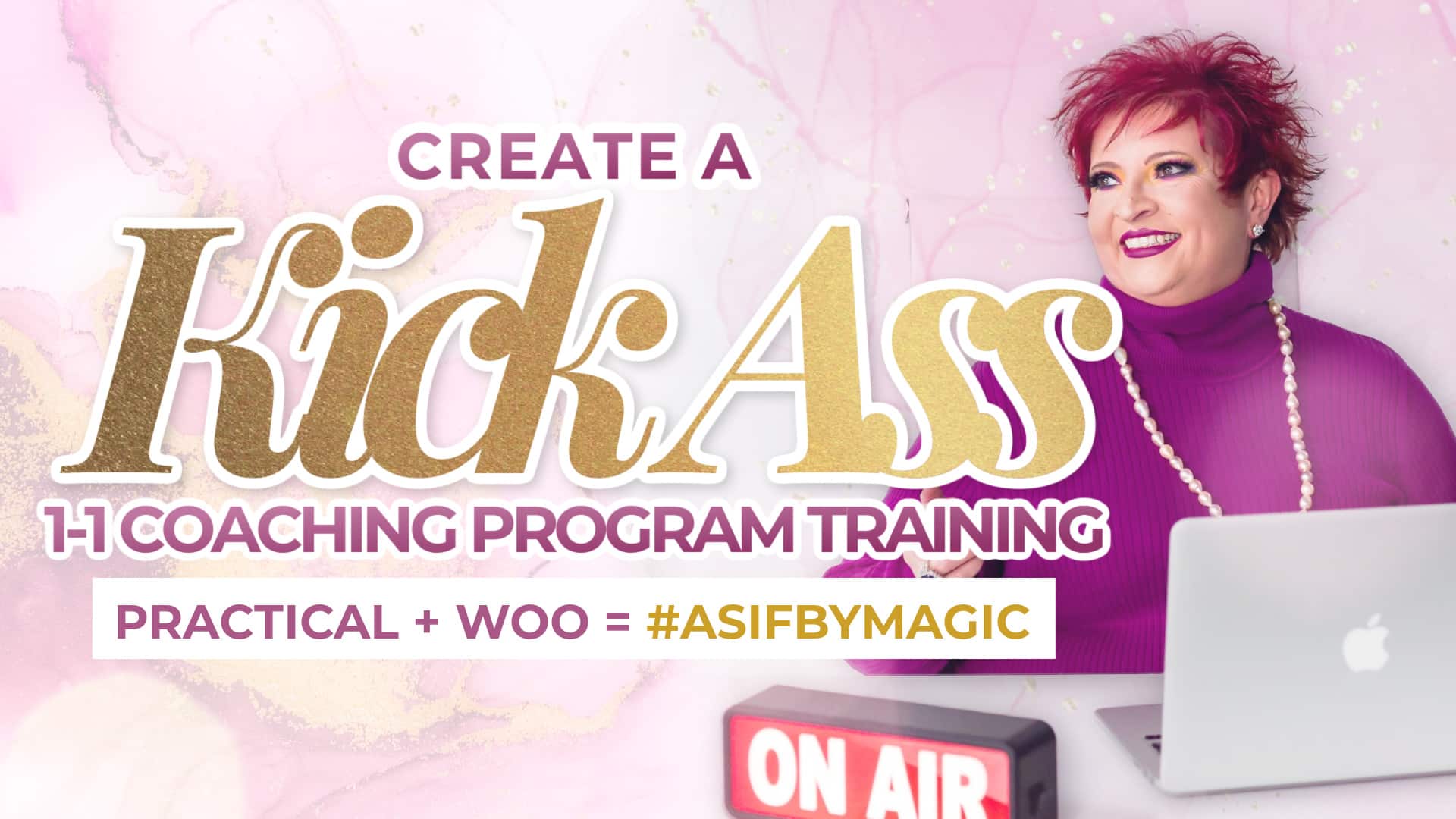 Create a Kick Ass 1-1 Coaching Program Training
PRACTICAL + WOO = #ASIFBYMAGIC!
Have you been considering creating a 1-1 coaching program for your clients?
Join me in this training
to get the coaching program created
and everything you need to launch it #asifbymagic!
PREVIOUSLy RECORDED in 2023 and ready for immediate access.

Invite Email sequence templates
ClickUp Task "Creation" template
Canva Templates for Promo Graphics, Reels, Stories
Google Sheet with Reel Ideas
How to Receive Testimonials on PDF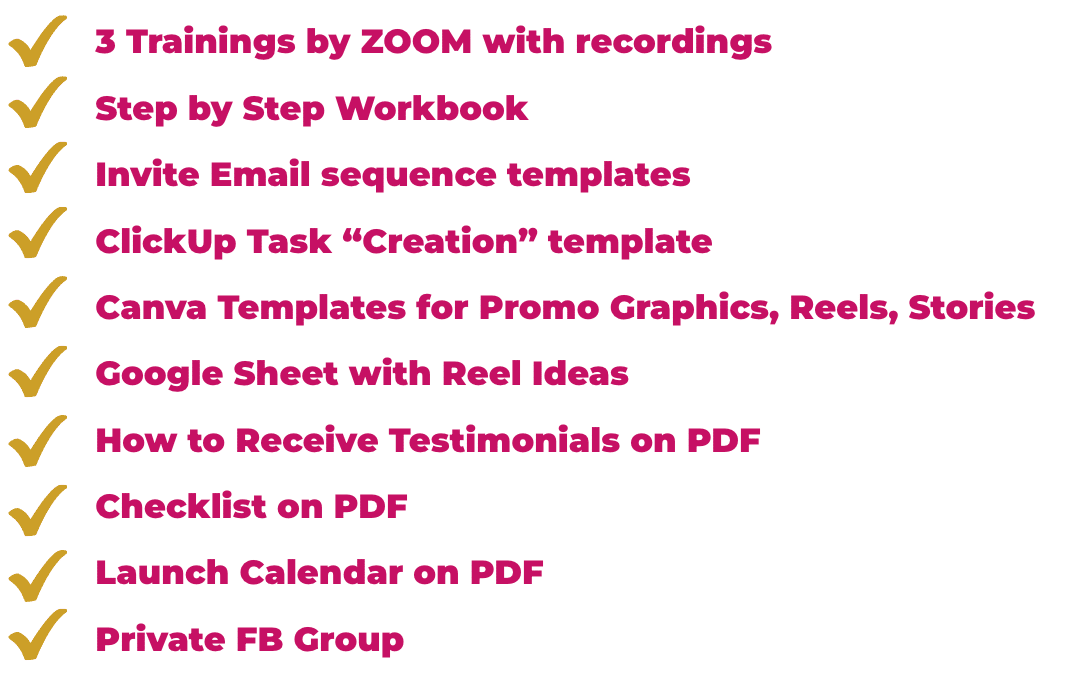 Launch Calendar in Digital Format
to use on iPad or tablet with a stylus
(valued at $127 USD)
3 Energetic Exercises
on audio
(valued at $97 USD)
Frequently Asked Questions
When are the ZOOMs?
Click on the date for your local time:
BEing and Receiving
January 3, 2023 at 9:00 A.M. MST
What if Everything Was About Possibility and Nothing Was About the Problem
January 10, 2023 at 9:00 A.M. MST
Trusting Yourself
January 17, 2023 at 9:00 A.M. MST
Sex, Money and Receiving
January 24, 2023 at 9:00 A.M. MST
What Do You Want to Do With Your Life?
January 31, 2022 at 9:00 A.M. MST
Wealth and Fortune
February 7, 2023 at 9:00 A.M. MST
Enthusiasm for Living
February 14, 2023 at 9:00 A.M. MST
Money is Easy
February 21, 2023 at 9:00 A.M. MST
A Future Beyond Anything You Have Ever Seen
February 28, 2023 at 9:00 A.M. MST
What are the dates for the live trainings?
How long will each training be?
Anywhere from 1 to 2 hours.
What if I can't attend the live trainings?
You won't miss anything as you will receive the video and audio recordings of each training.
You can ask any questions you may have in the private FB group.
I have never used Canva. Are you sure I can do it?
I suggest practicing in their Free Account option.
Alternatively, my team can edit the graphic package of your choice for you for an additional $60 USD. (this is for editing 1 of the 10 graphic packages, not all 10)
What if I don't like any of the graphics?
You are welcome to create a graphic on your own or hire a graphic designer of your choice.
Do you have a question not listed here?
Send it via my contact form and we will get back to you asap.
A Personal Note from
Glenyce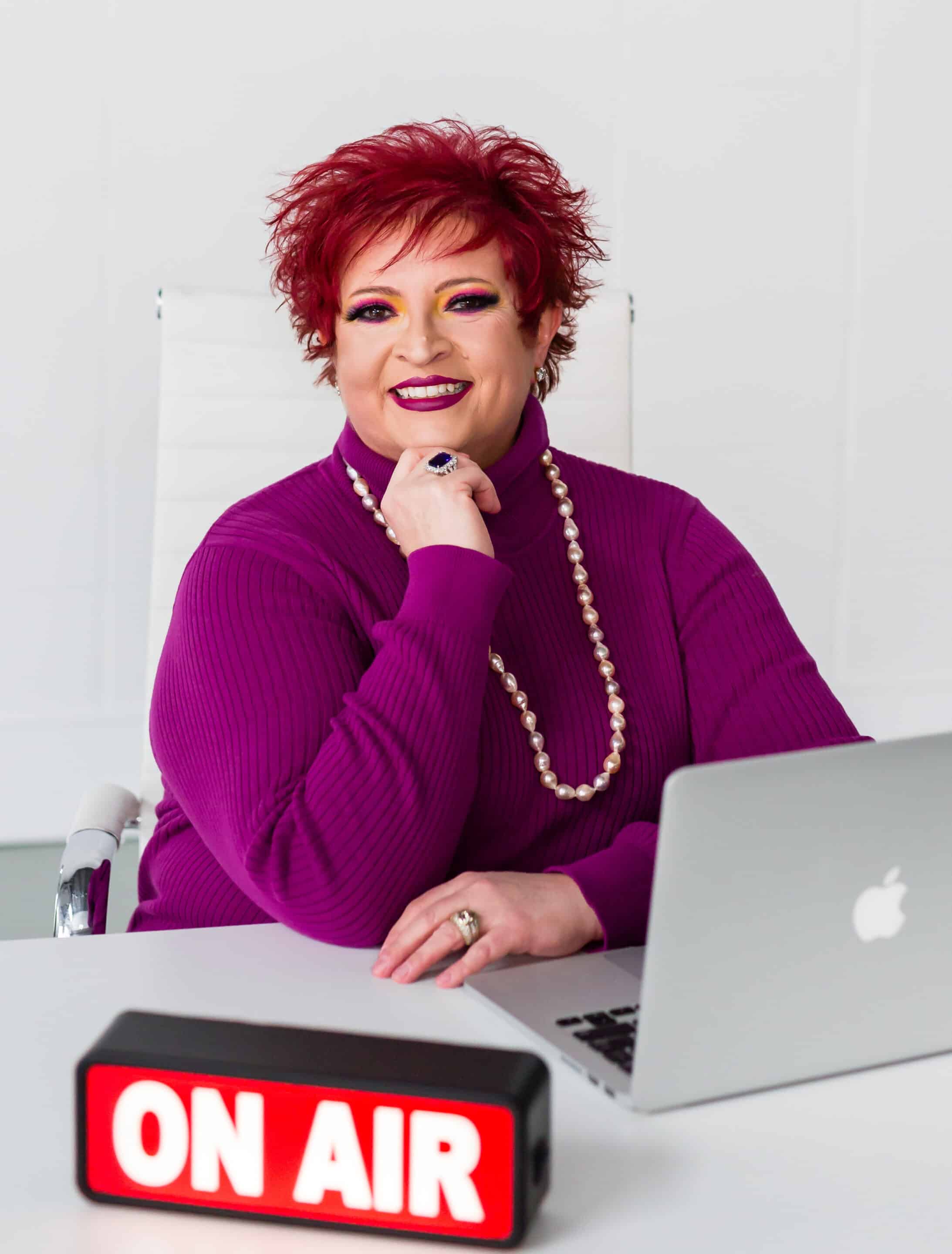 Hello, sweet friend.
I'm Glenyce and I I empower ambitious entrepreneurs to show up with confidence so they can create profitable businesses while living a lifestyle that they love.
I travel the world teaching people how to be AWEsome!
But it hasn't always been this way…
For 9 years I worked HARD for money, I distracted myself doing all the "right" things, with no results.
Then in 2011, I started using the tools and processes from Access Consciousness®.
Within the first year, I tripled my income and it has continued to grow.
Within 2 years my business went Global.
The best part is, I was able to do it while creating a life I love!
I'm so excited to share my guide with you inside this exclusive PDF so you can show up with confidence while creating a profitable business!
See ya inside!