By opting in you will also be added to Glenyce's email list, where you will receive a weekly email along with promotions. You can opt out at any time. We do not 
sell or
distribute your information. Please read

our 
privacy policy
for more information.
How I got to be the Potent Mother-Fucking Creator of Magnitude… 
1972
I was born!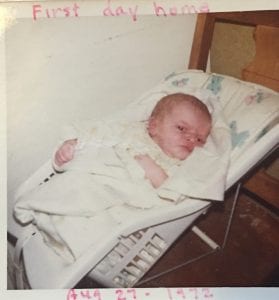 I was born to Carole and Wayne in Turtleford, Saskatchewan.
Population: 505.
1990
I graduated from high school!
I graduated from high school and I clearly have a gift for hair, which will come in handy later.
(P.S. The population of my hometown is still 505.)
1993
Graduation #2!
I graduated as a psychiatric nurse in Regina, Saskatchewan.
1993
I met Rodney.
In August 1993, I met Rodney and while were just good friends at first, we had our first official date on December 13, 1993. We got married on October 23, 1997 and have been creating adventures every since.
1995
Graduation #3!
Then I graduated as a hair dresser… because that totally made sense at the time.
Seeing my high school picture, did this really surprise anyone? Perhaps this explains my love of makeup today…
2002
My journey to more possibilities began.
In March of 2002, I took my first Reiki class.
In August 2002, I had my first conversation with a dead person. You can listen to my radio show about this right here.
Then in September 2002, I started my first business, The Healing Room.
2011
The radio show that changed everything.
Nine years after I started The Healing Room, I listened to a radio show that introduced me to Access Consciousness® and two things happened that day:
1. The tools I heard about that day opened up possibilities that I never knew existed before.
2. I knew that I wanted to have a radio show like that, which has become a reality.
2012
The magic of Access Consciousness®.
In August 2012, I took my first Certified Facilitator training for Access Consciousness® and began asking for things that including traveling around the world showing people how to choose beyond the impossible.
Present Day
Present day:
When people ask what I do, I say that I travel the world facilitating people on how to be awesome. I remind people of what they know and what they truly be. I empower them to know they can choose beyond what anyone has ever told them was possible.
How DOES it get any better than that?!
If I went from being an awesome hair-dressing psychiatric nurse, to talking to dead people, to now facilitating global awesomeness, then ANYTHING is possible.
My Biggest Pet Peeves:
Hearing people chew or swallow.
Complaining.
People pretending they, or others, are victims.
What pisses me off:
When I buy other people's limitations as true.
If I could invite anyone over for a dinner party, I would invite:
Oprah
Elizabeth Gilbert
(it's just a matter of time before they take a class from me…)
My favorite quote:
Whether you think you can or you can't. You are right. – Henry Ford
What I wished I knew 10 years ago:
That I am the creator of my life and that nothing and no one is greater than me.
My hobbies:
Floating in water while the sun shines.
Deep conversations that blow up my reality.
How does it get any better than my hubby traveling with me as I wander around the globe facilitating consciousness?
(hover over the pictures below…)
Plus, I have the coolest family!
Meet the Rest of the Family:
Gromit and Lady Tottington (Totty for short)